Well, You've come to the right place at the right time. If you've searched for what are the Top 10 Digital Marketing Companies in Hyderabad that obviously means, you are actively looking for the best company/agency that can help you solve your problem and increase your growth. Don't look any further because you've already found one.
As an entrepreneur, you want to take your startup to the next level, enter the big league and make your product reach the right audience and help them. For that to happen marketing plays the most important role of all. The same goes for an e-commerce brand owner, you have a product that is made with lots of hard work and passion just waiting to unlock its full potential in its market. Regardless of the niche every aspiring entrepreneur and brand owner like you wants one thing, and that is growth, the level of growth that you dream of.
As of April 2022, there were five billion Internet users worldwide or 63 percent of the world's population. Of those, 4.65 billion, or over 93 percent, were social media users. That's a superpower for any brand looking to increase sales and growth. If you know how to leverage this post-pandemic boom, you can increase your growth exponentially. If there is one thing that can give your brand the growth you dream of it's marketing.
But marketing is hard, vast, and ever-changing with every small update from platforms like meta, google, LinkedIn and Twitter to name a few. To keep up with all the bleeding edge technical tools, adapting to every single change in algorithm, and running highly complicated PPC campaigns might be impossible for you because you are busy building an amazing product already. Hiring the right marketing agency which believes in your product and vision as much as you do can accelerate your growth and give the right push that your brand needs.
But that's where it gets trickier finding the right agency, there are a hundred and one agencies out there of which every one of them claims to be best if not "the" best.
Here's a 6 step checklist you need to see before you finalize the best digital marketing agency for you:
Be clear with what you want, there are hundreds of things digital marketing agencies can and will do. What services do you need at this point in time, jolt them down and look specifically for the agencies which are specialized in those particular services.

Before you go and make a final list of agencies who has expertise in the field you need, there are a few things to look at:

First of all, their mission and vision basically the real reason behind starting an agency. These days there are many agencies that are popping out just to mint money and that's not wrong but money should never be the foundation. Find out there why. It's always great to work with people who are after purpose than price.

Once you have a few on your list, now it's time to peep at their portfolio. Check the stats and the problems they solved. Experience matters but also check how did they solve the problem. Any good agency will have case studies you can skim through them and find this out.

Check their website thoroughly and look at what they are saying, basically their brand messaging and if you resonate with that check for client testimonials and go to the next step

Hop on to a discovery call or an interaction call to actually see if they are a good fit for your brand both technically and culturally. Ask all the doubts you have and take as much as time you need. Culture is a really important aspect because you will be working with time for quite some time.

Now comes the real question, after doing all these steps do you really feel that they believe in your product and vision as much as you do if not at least something close to it? Are they passionate and emphatic? If the answer is yes then what are you waiting for?

And one last point, it isn't how big they are it's about how passionate they are about helping you. Always prioritize empathy. Both of you should believe in each other, if you do this and have some patience wonders are just a by-product.
To sum it up,
Be clear with what you want, and the services, and look for agencies who position themselves there.
Find out their why and purpose
Peep at their portfolio and stats
Find out their brand messaging & testimonials on their website
Hop on to a discovery call, check their expertise and culture
Do you really feel that they believe in your product and vision
If you follow this six-step model, by the end you will end up having one or two on your list. Anyhow we followed this and we have a few on our list:
Let's come back to the question,
Cloud 9 Digital is one of the best marketing agencies in Hyderabad. It is also one of the top emerging performance marketing agencies in India. In a line, performance marketing is marketing on steroids 🔥.
Cloud 9 Digital is a team of tech geeks & creatives, a squad with endless possibilities. All they talk about is growth. All they care about is delivering their promise. They are known for its aggressive stance in the market and for their new-age marketing strategies. When it comes to the digital marketing and performance marketing space Cloud 9 Digital has earned its own reputation.
Cloud 9's mission and vision can make you take pause, they really have a why, unlike others who just mint the money. They not only have a good why but also have impeccable stats,
​​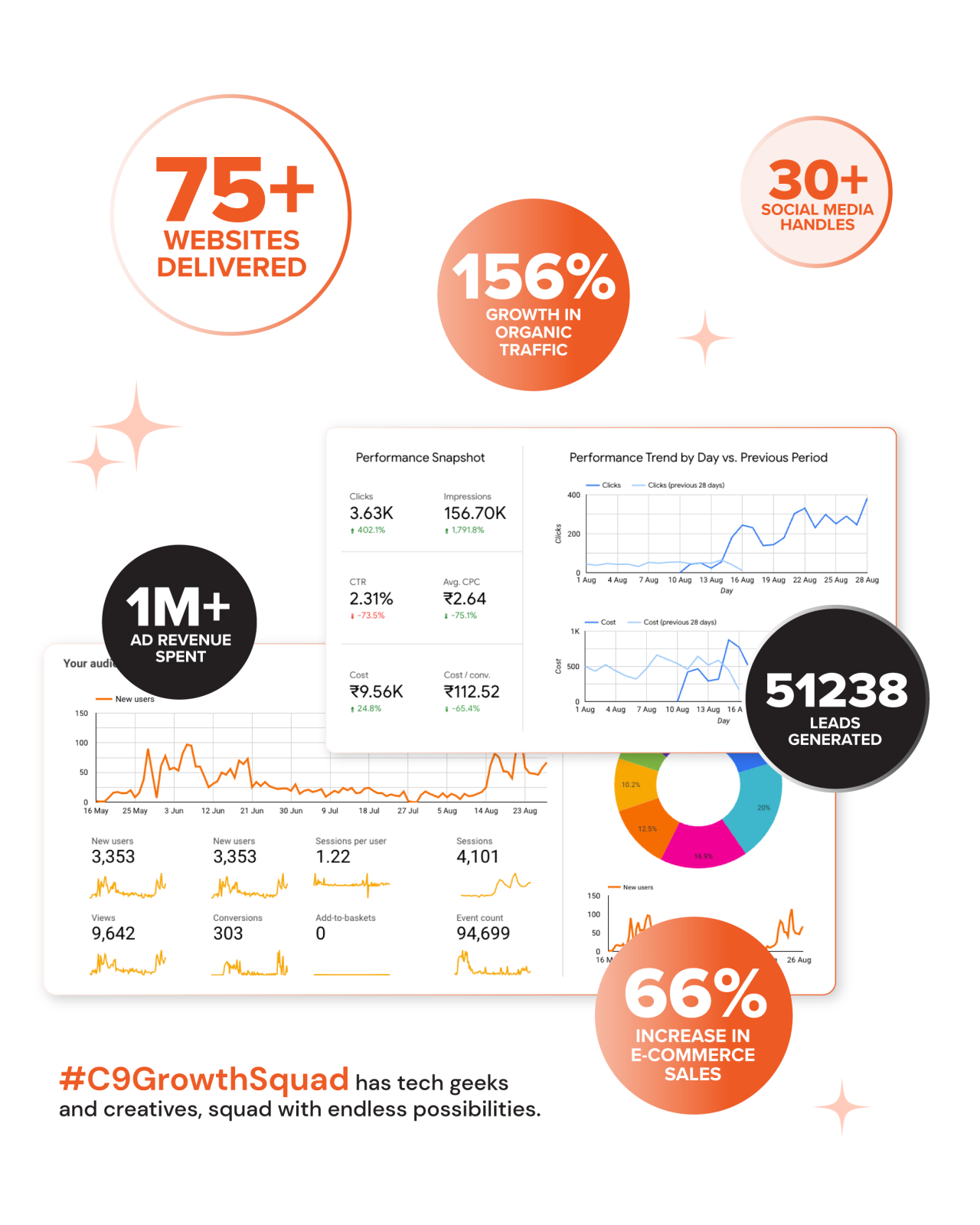 Team at Cloud 9 Digital worked with many emerging brands and took them to cloud nine in no time. It is actually harder to work with an emerging brand than with an well-established one due to the many constraints they have. Even with them, cloud9 has inspiring success stories.
"They might not be the biggest firm, they might not be the oldest, But they are a bunch of imaginative & passionate people who care for our clients the most. They deliver growth and they are pretty fun to work with"

Srivastava Konda, Executive Director Strategy, Bhavani Constructions Private Limited.
| | |
| --- | --- |
| Founded: | 2022 |
| CEO: | Bharat Vasireddy |
| Team Size: | 20+ |
| Clients: | Humanly Skin, Drink Thrive, Niramya Jewellery, Personiks Cosmetic Centre, Bhavani Properties, Tweak Coders, FTechiz, Best Asia UK, SSA Australia, Etc., |
| Services: | Paid advertising, Social Media Marketing, SEO, Content Marketing |
| Address: | 3rd Floor, KNR Square, Gachibowli, Hyderabad – 500032 |
| Email: | [email protected] |
| Phone No: | 8885333635 |
| Website: | https://cloud9digital.in/ |
Book your free 30 min strategy call and find out if they are a good fit for you or not.
Top 10 Digital Marketing Companies in Hyderabad
Please note this list is no particular order!
Digital rank
A bunch of SEO experts started it, and now it is one of the top digital marketing agencies in Hyderabad that offer a complete digital marketing package. Digital rank has branches in Delhi, Ahmedabad, Surat, Chennai, Banglore, Kolkata apart from the one in Hyderabad. They offer SEO, SEM, SMM, PPC, Email marketing, online reputation mgt., Video advertising & Affiliate marketing.
Address: 201, The Gateway Sri Swamy Ayyappa Society, Madhapur, Hyderabad, Telangana, India- 81
Email: [email protected]
Website: www.digitalrank.in
GeeksChip
They have catered to more than 420+ clients all over the country. Most-known for their bespoke approach, they offer services such as SEO, SEM, PPC, SMM, web design, ORM, among others. One domain that they are experts at would be healthcare.
They have done strategic SEO for several healthcare clients and made them rank on top of the SERPs. Some of their clients include NCC urban, Merkee band, Troop messenger and Ananya learning centre. They have featured in several online forums, as the top digital agency in Hyderabad.
Address: S.S. Arcade, 3rd floor, plot #97 & 98, Kavuri Hills, Phase 1, Madhapur, Hyderabad- 81
Email: [email protected]
Website: www.geekschip.com
GenY Medium
Rated among the top Digital Marketing Agencies in Hyderabad, GenY Medium helps businesses to grow with excellent and robust digital marketing strategies. They came into the digital race in 2012 and have been at the top of the game since. Their client list includes giants such as Lenovo, TATA, Apollo healthcare, Cigna health insurance, Aakash, Aparna constructions, etc. In 2018 they were featured among the top 1000 high growth companies in the Asia Pacific.
Their services include PPC, SEM, SMM, SEO, Digit presence, marketing automation, social listing, mobile marketing, online reputation management, transformation consulting, market research and insights. They are also a premier google certified partner.
Address: H.No.1-62/172, 3rd Floor, Plot No.172, Phase II, Kavuri Hills, Madhapur, Hyderabad- 33
Email: [email protected]
Website: www.genymedium.com
Check this also: Top 710 Digital Marketing Agencies in India
Shoot Order
Shoot Order is one of the top-rated digital marketing agencies in Hyderabad. It is a part of the Ivent IT solutions Pvt. Ltd. Established in the year 2012, they have been a one-stop solution for digital marketing since. They offer services such as SEO, Media Buying, Media planning, Affiliate marketing, PPC, Email Marketing, SMM & Web-app development.
You can also contact them to get a free SEO audit and a free online reputation audit for your business. Their client-list includes Continental hospitals, care health, BMW, Hathway, Nalsar University, Times group and many more. Other than having huge conglomerates on their hands, they are also known for their quirky social presence.
Address: Softsol tower-1, 2nd floor A Wing, Plot no 4, Infocity, Software units Layout, Madhapur, Hyderabad
Email: [email protected]
Website: www.shootorder.com
I Prism technologies
I Prism technologies is another best digital marketing agencies in Hyderabad. Known for their web development and mobile app development since 2009, I prism also offers complete digital marketing packages. Even though their headquarters are in the USA, they cater to almost all over the world. I Prism offers SEO, SEM, SEM, SMO & App optimisation. The company is ISO certified and has global recognition.
Address: Rd No. 3, Near Apollo Hospital, Jubilee Hills, Hyderabad- 33.
Email: [email protected]
Website: www.iprismtech.com
DigiClues- SEO services and digital marketing agency
As their tagline says, DigiClues is an SEO focused digital marketing agency in Hyderabad. The number one priority of DigiClues is to bring the client's website on top of the SERP. They also offer other digital marketing services at affordable pricing.
"Google only loves you when everyone else loves your content. Content builds relationships. Relationships are built on trust. Trust drives revenue." -Simraan Shaikh, founder of DigiClues. If you are looking for premium solutions at an affordable price, then Digiclues would be a reasonable choice.
Address: Building, 5th Floor, Accord Blu, Banjara Hills Road Number 10, Banjara Hills, Hyderabad, Telangana- 34
Email: [email protected]
Website: digiclues.in
Inovies
Inovies is a leading digital marketing agency in Hyderabad. Inovies has over a decade of experience in technical writing, web development and digital marketing. Their digital marketing services include Influencer marketing, digital marketing consulting, Web analytics, mobile marketing, online reputation management, video marketing, growth hacking and customer acquisition.
HBL power systems ltd., Tick N Trade, rent it, Bisol Q Techno enterprises, Bits consulting, Swcic is some of the brands for which Inovies has done digital marketing. They are a member of the international web association, Nasscom and IMA.
Address: Level 5, Plot No:57/99 & 50/109, Survey No: 78, Patrika Nagar, Madhapur, Hyderabad, Telangana- 81
Email: [email protected]
Website: www.inovies.com
The go-to guy
The go-to guy is a creative digital marketing agency in Hyderabad that offers the best rebranding solutions in the city. Other services here include, strategy, content, search, paid search, social media marketing and online reputation management.
They have rebranded for Valufy, Wozart- inventing tomorrow, Santosh Dabha. They have also marketed for ZIM, Gleecus, Tenet diagnostics, Fission labs, Intellika, Sabrentkaro and many others.
Address: Second Floor, Plot # 4/2, Sector 1 HUDA Techno Enclave, Hi-Tech City, Madhapur, Hyderabad- 81
Email: [email protected]
Website: www.thegotoguy.co
The Smarketers
The Smarketers are known for their innovative and trendy works that use updated tools and techniques to drive sales and marketing. Their client list includes Acuvate, Alcatel-lucent enterprise, Inry inc., Team viewer, Thompson Reuters, ITC infotech, etc. Smarketers device innovative strategies for B2Bs to propel sales using inbound marketing and account-based marketing.
Address: A1004, The Platina Gachibowli, Hyderabad, Telangana- 32
Email: [email protected]
Website: www.thesmarketers.com
Veiview solution
They offer 360-degree digital solutions to B2Bs, SAAS based products and E-commerce companies. They are known for their online reputation management service in Hyderabad. It is taking control of the client's entire online presence and making it visible to the right audience, interacting with the audience who engage and track performance.
Veiview offers mobile app SEO, amazon SEO, local SEO and International SEO, making them a strong contender among other SEO agencies in Hyderabad. They have given some significant campaigns for clients such as Crown industries, Bloom skin and hair clinic, Stem tools, Khalifa Homes. Strategic data solutions and Supra ventures.
Address: Western Aqua Building, Workafella 5th Floor Hitech City, Hyderabad- 72
Email: [email protected]
So, have you hired any digital marketing agency in Hyderabad that I haven't mentioned here? Share your experience in the comments section.
Digital marketing agencies in Hyderabad offer comprehensive services that help businesses boost their online presence. With an experienced team at your disposal, you can count on these agencies to help you achieve your marketing goals. Contact them today to see how they can help you reach your target market.